CONTENTS (PDF doc: white paper.pdf)
THE MISSION
THE ENVIRONMENT
THE PROBLEM
THE SOLUTION
THE VALUE PROPOSAL
THE PROTAGONISTS
THE PLATFORM
THE SCHEDULE OF ISSUES
THE TREASURE
THE "SAF"
THE WELLBE BONE
THE DEVELOPMENT
THE MASTERNODES
PLAYERS
THE ECONOMY
THE PARTNERS
1- THE MISSION
WellBe Coin is a cryptocurrency intended for widespread and worldwide adoption by various players in the world of Fitness and Sport.
WellBe Coin will achieve this by promoting a system of self-financing and governance, absorbing, improving and using the most advanced technologies in the field of Blockchain, including the very comprehensive capabilities of Smart contracts and limitless scalability. Additionally, by removing common barriers to entry into the cryptocurrency space, WellBe Coin will become the most user-friendly, secure and reliable platform to use and trade value.
Facilitate exchanges between the various players in the Fitness industry, allow each of them to integrate a community and a healthy and reliable ecosystem by providing everyone with added value, a renewed experience and a means of exchange enriching, but also solve certain problems, this is our Mission.
2- THE ENVIRONMENT
"Cryptocurrency will do to banks what e-mail has done to the postal sector. "
-Rick Falkvinge
The first step was the creation of WorldWideWeb (W3); "Hypermedia Information Retrieval Initiative to Provide Universal Access to a Wide Universe of Materials." These are the words rendered on the world's first website, describing the initials for the Internet. In the same year, HTML was born and soon after, the first batch of Internet browsers were launched.
Today, almost 30 years later, we are living in the second "stage" of the Internet's evolution. The exchange of information turns into the exchange of values, and value is one of the oldest forms of communication between human beings. This is a historic economic turning point that will have significant socio-economic repercussions on humanity.
In the Internet of values to come, billions of Internet users will exchange value as efficiently and simply over decentralized blockchain networks as we currently exchange information.
Blockchain technology has definitely shown great promise for multiple applications, in many areas. However, despite this potential, we have yet to see a new generation of cryptocurrency gain popularity and mass adoption globally in one area!
3- THE PROBLEM
There is an emerging need for security in fluctuating currency values and therefore in cryptocurrencies, due to this among other things, cryptocurrencies are only adopted at 0.5% globally. Strategically designed cryptocurrency that can scale and maximize and secure its value is a welcome alternative these days Leading-edge cryptocurrencies don't have everything they need to meet this need.
REPUTATION
In the general community, outside of the crypto ecosystem, cryptocurrencies don't have the best reputation. Relevant media reports that reach the everyday person, most often through 'local news' broadcasts, social media and newspaper opinion sections, are at the ends of the spectrum. editorials. When it comes to news media reaching the general public, there is little bandwidth left for useful and objective information about the reality of this emerging technology.
COMPLEXITY
Cryptocurrency is far too complex for most people, and the barrier to entry is much higher than what would-be adopters could tolerate. Trading often involves significant friction on the part of users, and value trading between cryptocurrencies is often inconsistent or time consuming.
STRUCTURAL AND FINANCIAL STABILITY
Many cryptos decide on very high rewards for the "miners" in their network, without first modeling an organization's financial needs to support development. As a result, many cryptocurrencies have little or no growth potential, and / or contributors go unpaid.
4- THE SOLUTION
WellBe Coin will be built around 4 principles for mass adoption.
Trust
Vigilance
Usefulness / User-friendliness / Availability
THE HARNESS - WELLBE
-Build a solid base of a vast self-financed treasury system with chain governance
-Build a strong support system
-Create the WellBe Coin Community
-Build growth mechanisms with AirDrop and other marketing campaigns
-Build stability mechanisms with the WellBe Coin Masternodes network and the Staking system, both with strong bounties.
FOCUS - WELLBE
Build an ecosystem by extending the integration capabilities of dApps (decentralized applications) and cryptocurrency on the WellBe Coin platform with an emphasis on trust, vigilance, usability, and availability. Creation of an intelligent contractual platform for the issuance of digital services between systems. WellBe Coin's services for the ICO will include:
WellBe Defense and WellBe Bureau of Investigation (WBI)
WellBe Incubator
WellBe Support and Development (WSD)
WellBe Marketing "Toolbox"
5-THE VALUE PROPOSAL
WellBe Coin is a self-funded cryptocurrency whose vision is to drive the mass adoption of cryptocurrency in the Fitness and Sports Industry globally. It has a self-funded treasury system and will eventually turn into a smart contract platform.
SELF-FINANCE
WellBe Coin is self-financed by Treasury issues which allows the long-term development of the technological platform. The currency has one of the highest allocation percentages in the business. This funding helps establish a viable long-term model that will grow the technology and the community.
GOVERNANCE
Combined with self-funding, a strong governance model allows WELB to avoid pitfalls and amplify the successes of its predecessors by making community decisions that maximize scalability and drive mass adoption.
STABILITY
Keen to promote a fair and stable crypto-currency ecosystem, WellBe Coin has chosen to organize an Initial Coin Offer (ICO) and pre-mine WELBs in order to guarantee a Reserve Fund intended to guarantee annual growth of 15%. from its original value.
SMART CONTRACT PLATFORM
In addition to the functional Blockchain system of WellBe Coin and with the WELB which will be traded on 3 different exchanges, the Blockchain development team of WellBe Coin is working on the development of a Smart Contract Platform (WellBe Coin 3.0), to further stimulate network effects that drive mass adoption.
6- THE PROTAGONISTS
MASTERNODES
Masternode holders obtain significant rewards for their engagement in the WellBe Coin community and their contribution. These rewards include governance mechanisms for Masternode ownership. (cf: explanatory video). (from 2022)
PLAYERS
Likewise, the WellBe Coin Stakers are an integral part of the WellBe Coin consensus network. They are also rewarded for holding WELBs and managing their portfolio full time. (see: "Staking" info video)
THE PARTNERS
DApps and other project partners will benefit from the WellBe Coin Smart Contract platform. Rather than focusing exclusively on transactions per second, this common 'arms race' in the Smart Contracts market, WellBe Coin will provide added value, such as technical expertise and continuous governance / decision making providing added value to partners and projects based on their merit and their benefits for the WellBe Coin ecosystem.
FINAL CONSUMER
The end consumer can use WELBs as a store of value but also and above all as a means of payment for transactions with ecosystem partners. Just as an interactive network of applications on a smart-phone operating system increases the usability of the phone, WellBe Coin's network of app partners integrated into the ecosystem, will increase the usability of the platform. As WellBe Coin grows, the WellBe Coin Department of Defense will work with law enforcement and cyber security experts to investigate and help protect WellBe Coin users from any potential incidents of hacking or fraud occurring within the community. Thus making the WellBe Coin ecosystem more secure for the end user.
7- THE PLATFORM
PROTECTION OF USERS
Like all emerging technologies, the Blockchain ecosystem is plagued by "bad actors" who seek to gain unauthorized access to funds. The understandable concerns over scams and hacking inside the cryptocurrency space, along with the heightened security measures required to "become your bank," have created a natural delay in the mass adoption of cryptocurrencies.
The WellBe Coin Department of Defense and its investigative service, the WBI (WellBe Bureau of Investigation), will serve to protect the WellBe Coin user base from hackers, crooks and other users for criminal purposes, to the extent possible. WellBe Coin with its dedicated "Wallet" offers an increased level of security for these users.
SUPPORT FROM PARTNERS
Partners who would like assistance in setting up the WellBe Coin in their structure, as a means of payment, rewards, marketing and any other uses they could make of it, will be assisted in their process by our sales department, but also technical in order to answer all questions and make the adoption of the WellBe Coin general and massive.
WellBe Coin aims to establish an exceptional and friendly platform for users, investors and partners on which dApp can build. Smart Contracts will be redirected in Solidiy much like Ethereum.
MARKETING SYSTEM
WellBe Coin has strong marketing systems in place to effectively communicate its vision and attract not only crypto enthusiasts but also newcomers to the field. Massive and global adoption of the WellBe Coin in the Fitness industry is the primary goal of this ecosystem. This means taking full advantage of all available social media platforms, such as Facebook, Instagram, Twitter, Linkedln, Bitcoin Talk, Github, but also more targeted networks bringing together players from the Fitness and Sport industry. The goal is to reach as many users as possible and grow the WellBe Coin Community.
WellBe Coin has also created a video series on Youtube, which aims to educate newcomers on WellBe Coin in particular, as well as cryptocurrencies and Blockchain technology. Members of the WellBe Coin team make themselves available to help clubs and partners introduce WellBe Coin into the business model and thus share a vision for long-term growth. We provide marketing tools to allow instant access to the WellBe Coin and the Community.
2 INITIAL MEANS OF INTRODUCING WellBe Coin.
With the Initial Coin Offering (ICO), the founder of WellBe Coin has chosen to secure the stability and sustainability of WellBe Coin by carrying out a major distribution campaign of WellBe Coin at a greatly reduced base price. The funds raised by this ICO will go directly into the Treasury and will be used to ensure the increasing value of the currency in the future, ensuring an annual growth of at least 15%.
With AirDrop, WellBe Coin is launching a huge marketing campaign aimed at distributing a large amount of WellBe Coin to people who will help give WellBe Coin a meaningful presence on the web. The goal is to encourage engagement on WellBe Coin social media platforms and to grow the Community.
Target goals: By September 2021 WELB is expected to have 70,000 subscribers across all networks and social media - and to have just as many opt-in email addresses registered with WellBe Coin AIRDROP.
Social Network Link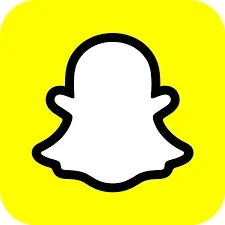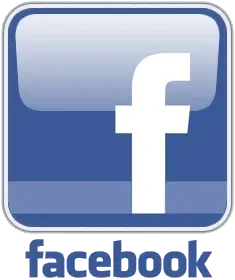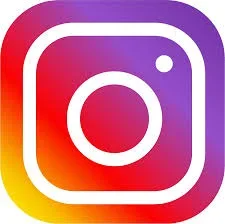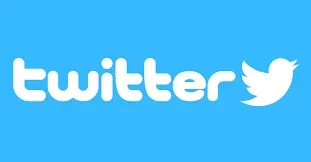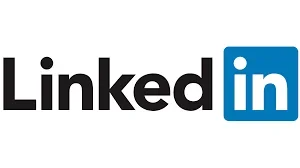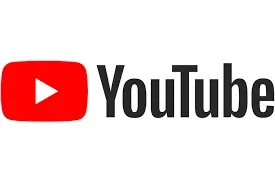 8- THE SCHEDULE OF ISSUES
As of July 2021 200,000 WELBs will be made available each month and will be distributed between the WELB Treasury, The WELB Bone, the Actors (teams of developers, marketing, security) and the Masternodes. The allocation of allowances will be as follows:
40% to TRESOR WELB (including 10% for the FAS "Solidarity Aid Fund")
10% WELB Bone
10% WELB actors
40% to Development (then to Masternodes)
As of July 2022, the number of WELB issued will decrease by 15%/ year.
The WELB Bone will serve as a reward for the vision and creation of WellBe Coin, and will encourage future leadership and direction. Since WellBe Coin has no supply limit, its Cash and Masternod allocations are critical to the continued performance, decentralization and longevity of WellBe Coin.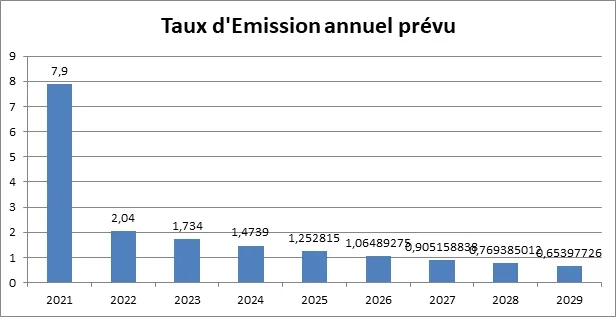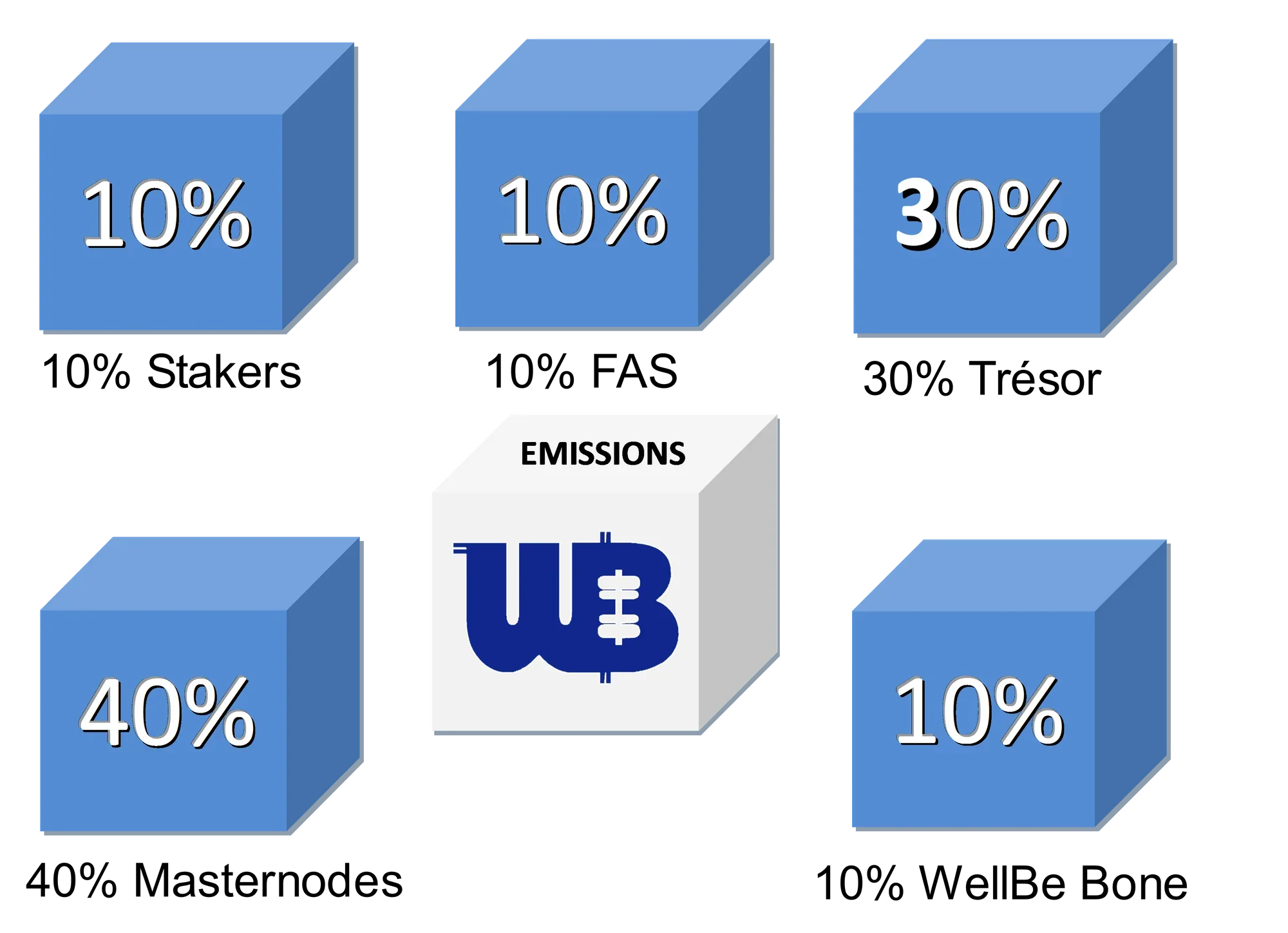 9- THE TREASURE
Many organizations have a reserve: TRESOR to support the WellBe by indexing it to this Reserve (in FIAT currency) and to reduce potential financial risks. With a treasury fed by 30% fund allocation, WellBe Coin can guarantee growth of at least 15% per year.
10- THE FAS
Our project has the particularity of having a Solidarity Aid Fund funded by 10% of fund allocations, and which will be the main focus of this project. Supporting, accompanying and coming to the aid of structures dedicated to well-being and sport, is the mission that WellBe has set for itself. For this, the creation of Smart Contracts allowing decentralized selection and allocation of funds will be created. The FAS will also finance the projects of innovative clubs, clubs that are members of the community in difficulty, and will make it possible to grant zero-interest loans to partners.
11- THE WELB-BONE
The Wellbe Bone needs to be strong and able to provide guidance, stability and support to the entire infrastructure.
The WELB Bone is made up of Anne-Marie ARGEMI, the founder and anyone with whom she chooses to share this project to make it grow. The 10% allocation, which is among the lowest allocations, we usually talk about the 20/50% allocated normally to the founders of a cryptocurrency project.
This empowers the team to successfully guide the WellBe Coin network and respects the desire for fairness. This 10% is not only allocated over the ICO but also over the life of the WellBe Coin. THE WELB BONE is an integral part of the distribution strategy guaranteeing the success of its mission.
12- DEVELOPMENT
LA WELB will also finance the creation by the end of 2022 of the WELL Blockchain which will allow the full autonomy of WellBe Coin and endless possibilities of applications. This will increase the possibility of approving community proposals, with governance of these decisions being provided by the Decentralized Autonomous Organization (DAO) of Masternode owners.
Until the creation of the WELL Blockchain, the 40% intended for Masternodes will be allocated to WELL Blockchain development. Or 10% for marketing and 30% for technological development (Wallet WELB, Smart Contracts, and Blockchain WELL)
13- THE MASTERNODES
A Masternodes is a point of intersection / connection on a decentralized network. It can provide features like private transactions and instant or direct transactions to the Blockchain network. The benefit of setting up, hosting and maintaining a WELB Masternodes is the WELB rewards that pay for these services.
MASTERNODE REWARDS
WELB's block time will be 60 seconds, and 40% of broadcast rewards go to Matsernodes. Each month, Masternode operators will collectively be rewarded with 80,000 WELBs.
For example, if 400 Masternodes are enabled on the network, each Masternode will receive 1000 WELB per month, or 12,000 WELB per year. If there are 200 Masternodes on the network, each Masternode will have 2000 WELB, or 24,000 WELB per year. The reward calculation changes as the number of Masternodes activated online fluctuates. WELB its Masternodes with significant rewards, so that they continue to service and maintain network nodes, which in turn facilitates network reliability. The requirements for using a WellBe Coin Masternodes are as follows:
A WellBe Coin wallet
1,000 WellBe Coin (WELB)
A virtual private server (VPS) running 24/7
A dedicated IP address for the VPS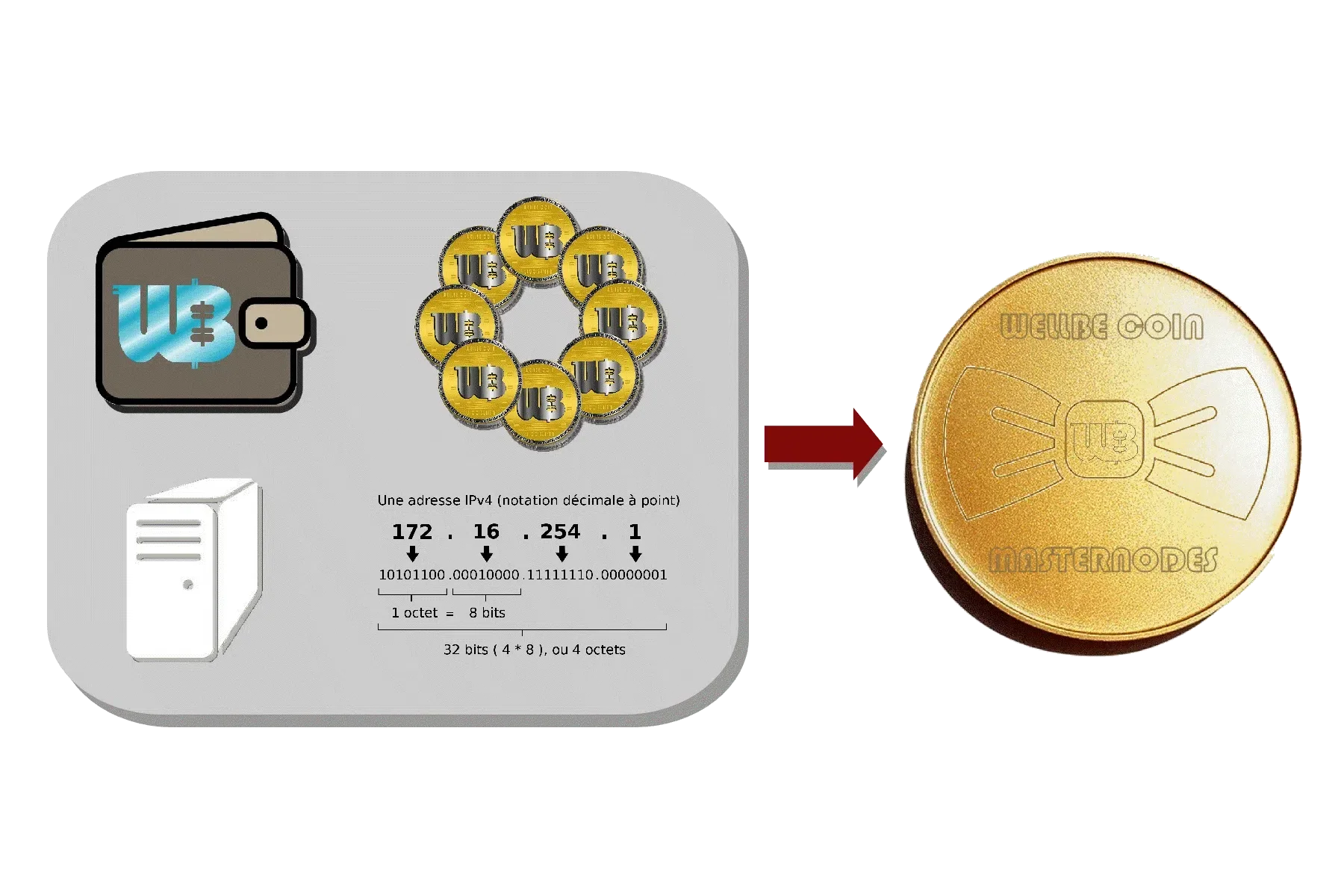 14- THE ACTORS
WellBe Coin chose instead a consensus Proof of Work (PoW) model, a consensus Proof of Stake (PoS) model.
Actors (Stakers) can collect Staking rewards by spinning their WellBe Coin wallet (with Staking enabled) containing at least 1 WELB. For more information on how to Staker, please refer to the web page and videos available.
10% of WELB's total emissions are distributed to Actors, Estimated monthly reward rate = (actor stake / total stakes) * 100k WELB. To calculate precise staking rewards for specific amounts please use the WELB Staking Calculator: ……)
15- THE ECONOMY
WELB AS A REWARD SYSTEM
WELB is one of the few cryptocurrencies on the market that has both a Stake structure and a Masternode structure that offers rewards to WELB owners. Why ? Outsource implementation, hosting and maintenance to the community and create a more stable and decentralized blockchain network. Each month all WELB Stakers stakeholders receive their share of 10% of WELB generated, and all holders of Matsernodes receive their share of 40% generated. This model differs from Bitcoin or Ethereum and other non-masternode and non-stake coins, where only miners benefit.
WELB AS A MEANS OF EXCHANGE
An important characteristic of WellBe Coin is the issue rate. As WELB releases are capped at WELB 200,000 per month in the first year, the issue rate, expressed as a percentage of total market capitalization, decreases over time (see figure) This issue rate reduction will ensure the long-term stability of WELB. While providing a strong framework for WELB to be used as a bargaining chip in the Fitness and Sport Industry.
WELB WITH CONTROLS
As WellBe Coin is an organization that evolves naturally without the demands of ICO coin holders. Instead, the use of funds raised at the WellBe Coin Treasury is voted on by members of the DAO (Decentralized Autonomous Organization). This avoids the enigma of decentralization of Bitcoin and Ethereum. - where major political changes require cycles of discussions before decisions are taken.
WELB FOR THE FUTURE
The WellBe Coin roadmap includes a user-friendly wallet for real exchange. As a form of exchange, WELB can be made to function as a currency, replacing Fiat common currency. Strong adoption within the WellBe Coin ecosystem will also enable commerce with external vendors. WELB's float against an external fiat currency gives users a concept of value, while avoiding the monetary controls restrictive governments sometimes put in place. The obstacles to mass adoption are few:
There is no point in having expensive infrastructure to pay for or accept WELB.
Transaction speed is fast, keeping it on par with cash or card.
Reward system through the ownership and hosting service of Staking and Matsernodes.
The WELB does not have a maximum cap on issuance, which makes it usable over the long term. The lack of maximum supply means that there is no future date when the WellBe Coin treasury will cease to exist. Like most coins, WELB's issuance is logarithmic, making it a currency whose issuance increases its price, reducing the number of tokens issued by 2 each year.
Easy to understand "and extremely important" by pre-machining and centralizing the supply with multiple Masternodes that receive the majority of the rewards. By delaying Masternode payments, WellBe Coin intentionally designed Matsernodes rewards to support decentralization of WELB supply, while ensuring sustainable development.
The cryptocurrency ecosystem offers the opportunity to innovate in two distinct areas:
WellBe Coin strives to do both.
13- PARTNERS
TRADES
During the first half of 2021, WellBe Coin will establish relationships with different exchanges: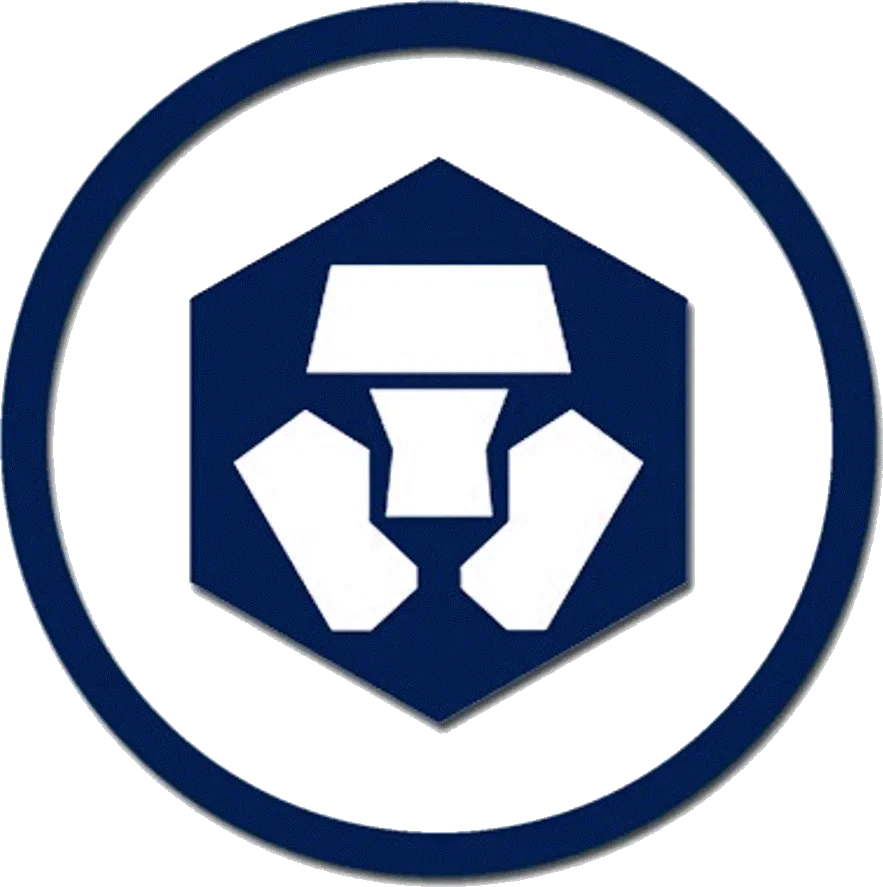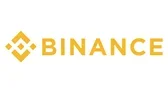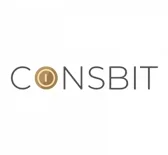 WellBe Coin continues integration with more exchanges, especially the one with the highest overall trading volume.
LISTS
In July 2021, WellBe Coin will be listed on the world's best known and most comprehensive cryptocurrency listing website.
WALLET
WellBe Coin will be able to be stored / received on multiple wallets such as Coinsbit, Metamask and others being traded. These are mobile and available on Android and IOS. But above all we will have the WellBe Wallet which will allow all transactions for users.
OTHER DETAIL SALES PARTNERS
WellBe Coin is also pursuing partnerships with other wallets and systems that allow you to spend cryptocurrency in "real life" (eg: ATM card, gift card).